Desjeux Créations will design and make your feather banners & advetising flag: winflag, oriflamme, beach flag, winXtrem, flam... for a hard-hitting communication.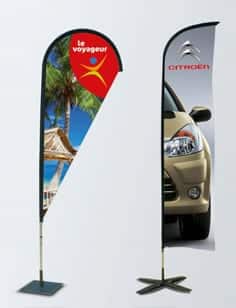 Aluminum Flag
Raise colors!
Your company does not have to go unnoticed any more! The flag attracts the eye by accentuating the entrance of a stand, a company or a store. Available in shape wing or round to adapt itself to the visual identity of your company, flags can reach 5 meters high for a maximal effect. The structure exists aluminum and also in fiberglass for more lightness.
Applications : Signalling system, decoration, PLV, factual for an optimal visibility.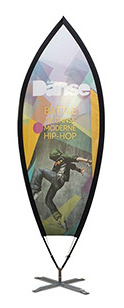 Flag veils Flam
 Wide extra communication!
Endowed with an original and playful design, the sail stretched out between 2 masts of the flag veils allows a total legibility of the picture. Of a surface more important than other flags and declined under two original forms, this flag is ideal indoor as outdoor. Sound more: the rigidity of its structure allows to protect the life cycle of the painting.
Applications : Signalling system, decoration, PLV, event.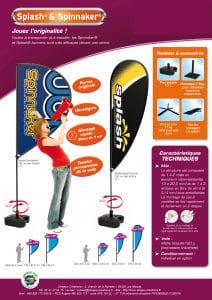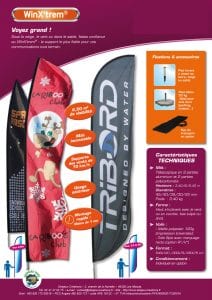 Winflag
The WinFlag (or Win Flag) In the dynamic profile, adapts itself perfectly to your communication and values your brand in an internal and outside used factual or promotional context. We propose you various models of sail:
We can also value your image during your demonstration thanks to our factual communications tools : stand exposition, comptoir d'hôtesse, kakemono, roller banner, mediacube, mobilier en carton, logo et lettre 3D, toile grand format.