We're here to help you build your image, using our skills and expertise to spread your message internationally.
Audrey Jules, junior designer and gold medallist in the Best Apprentice in France awards in the graphic design and pre-press category (2013 edition), Karine Constantin, expert consultant in translation and editing, Dominique Desjeux, specialist consultant in intercultural communication and ethnomarketing (USA, China, Brazil…) and Alexis Desjeux, artistic director and agency manager: we pool our talents to roll out or consolidate your image on an international level.
Whether you're looking to fulfil foreign subsidiaries' communication requirements, deploy sales campaigns in English-speaking countries, assist employees looking to work abroad or consolidate smart branding across your current marketing collateral, our team can help you promote a strong brand: yours! Our consultants will help you with: translation, graphic design, manufacturing/printing, digital development, and referencing (SEO/SEM/SMO), to build or strengthen your image internationally.
Get in touch to discuss your advertising requirements for 2014. Our values: understanding, creativity, attention to detail, reactivity and 15 years of hands-on advertising experience (print and digital) mean we have what you need. Desjeux Créations: to spread your message far and wide!
Some international campaign realised by Desjeux Créations :
AIDE financière : accompagnement de votre dossier de subvention
Quelques exemples de réalisations CAMPAGNE DE COMMUNICATION  à l'INTERNATIONAL :
DEME: " European Week of the reduction of Waste " Communication international and Evénementielle
Desjeux Créations realizes for the ADEME (Agency of the Environment and the Mastery of the Energy) all the tools of communication of its European Week of the reduction of waste.This event takes place in more than a dozen European country.
Desjeux Créations realizes: the posters of the event (in various sizes(formats), the adhesive labels " stop advertisement ", the graphic charter of the logo, the banners Web, the electronic signature.
The whole declined in more than a dozen language: English, Spanish, Greek… (more informations about SERD)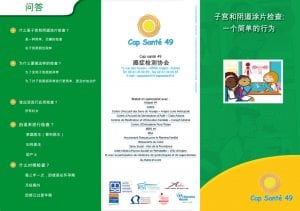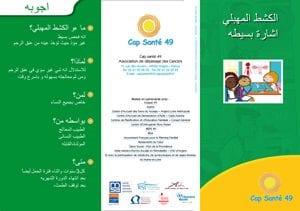 CAPSANTE49: " depistage of the neck of the womb: the frotis a simple gest " Communication international and of sensitization

Desjeux Créations realized for the association CapSnaté 49 the graphic creation of a leaflet of presentation of " depistage of the neck of the womb: the frotis a simple gest ". This leaflet 3 shutters (quadri RV – 2 rolled folds format 21×10 finished cm) was realized on the théme of the Band Dessiné to address the biggest feminine number.
This leaflet was translated in various languages (Arabic, mandarin, Russian, Turkish, Rumanian, English) to make sensitive the feminine public of all the horizons. Our graphic design studio it is in charge of this graphic declension from texts translated by Capsanté 49.